Real-Time GNSS/GPS and motion tracking with the
SenseCAP T1000
Internal memory and automatic data recovery ensure no records are ever missed. Enjoy a quick and seamless integration with Telemetry2U.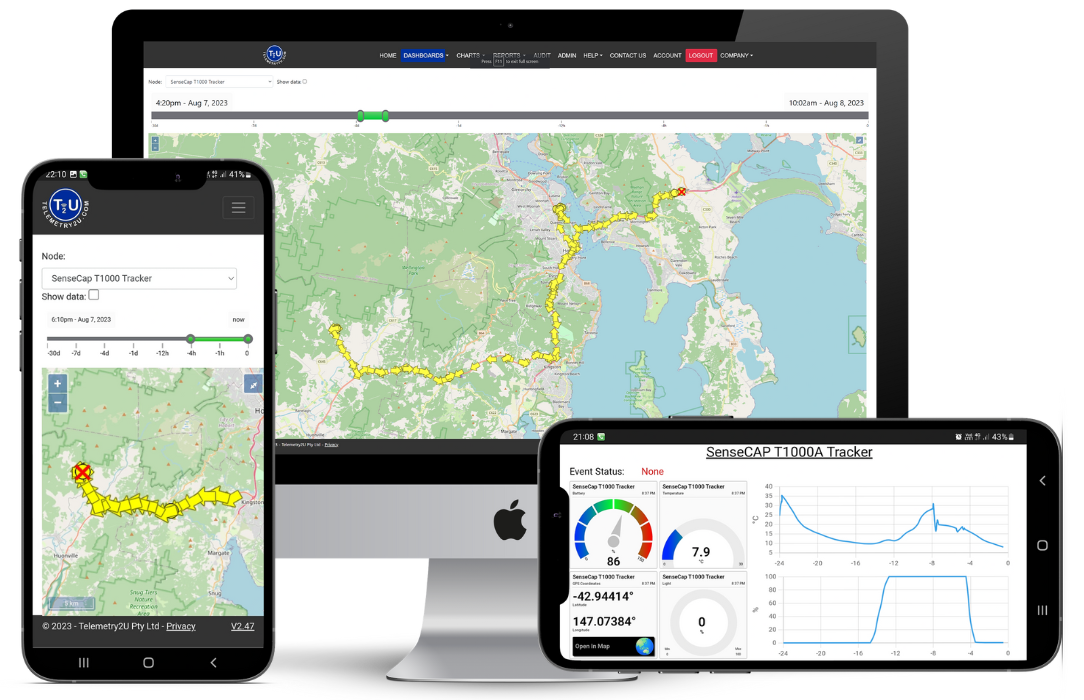 The SenseCAP T1000 is a compact tracking device that combines GNSS (GPS), Wi-Fi, and Bluetooth, making it suitable for both indoor and outdoor tracking applications. It's not much bigger than a credit card, and the internal battery can last for months (depending on the operating mode). It connects to T2U via a LoRaWAN network (private or public) and boasts a range of over 5km.
The T1000 operates in two modes:
Periodic Mode: The device sends an uplink at a periodic interval, e.g., every 60 minutes.
Event Mode: It immediately sends an uplink when one of the internal sensors crosses a threshold.
The internal sensors include a temperature sensor, light detection sensor, and an accelerometer. The accelerometer can be used to detect motion, shock, or a stationary state. The device is also fitted with an SOS button that, when pressed, triggers an immediate uplink.
Each packet includes an event status that indicates when the device starts or stops moving, detects a shock, becomes motionless, experiences temperature or light changes, and shows the button status. When integrated with T2U's IoT platform, these events can trigger email, SMS, and/or voice notifications.
When the T1000 is outside of a LoRaWAN network, up to 1000 records are logged in its internal memory. Stored records automatically upload to Telemetry2U when the device regains connection to the LoRaWAN network, ensuring no records are missed.
All of these impressive features translate to many possible applications, including, asset tracking, people tracking, mail and package tracking, and much more.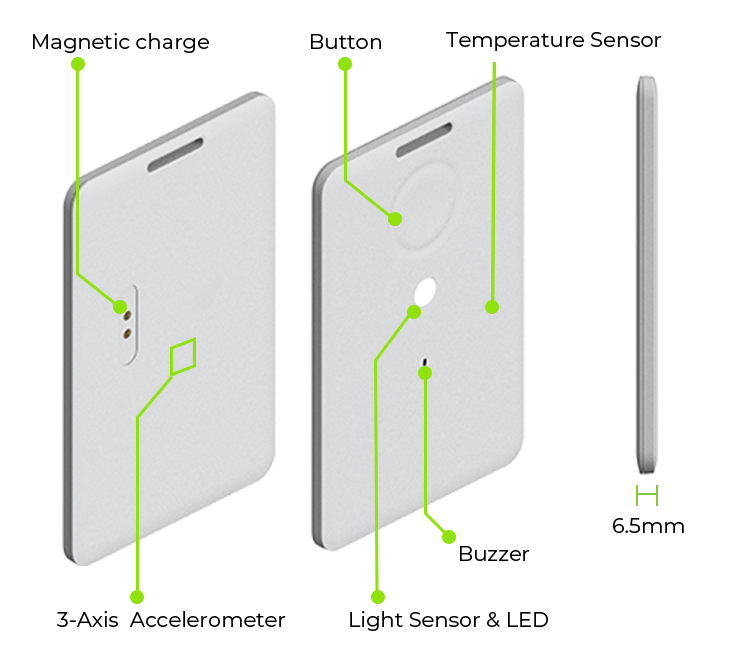 Configuring the T1000 via Bluetooth
Configuring the SenseCAP T1000 to work seamlessly with T2U is a straightforward process. While we won't delve into exhaustive details here — considering the comprehensive documentation provided by SenseCAP — we'll focus on the pertinent steps for integrating the T1000 with T2U.
To get started:
Download and launch the SenseCAP Mate app.
Scan the QR code located on the back of the T1000 device.
Follow the on-screen instructions to establish a Bluetooth connection.
During the setup, ensure you click on the Advanced Configuration button.
Here's an illustrative example of the advanced settings required for the SenseCAP T1000 to run on T2U's AU915 network server:
Step 1.
To set up your SenseCAP T1000 with T2U, navigate to Settings >> LoRa. Choose Other Platform as the platform option and ensure that the default Frequency Plan and Sub-Band align with your LoRaWAN network settings. While on this page, take note of the DeviceEUI and the APP Key, as you'll need these details when adding the T1000 to the T2U platform at a later stage.
Step 2.
Now, go to Settings >> Work Mode. By default, the T1000 is set to Periodic Mode with a 5-minute uplink interval. If you opt for Event Mode, additional configuration choices become available. This includes setting sensor thresholds and defining uplink intervals for when these thresholds are exceeded.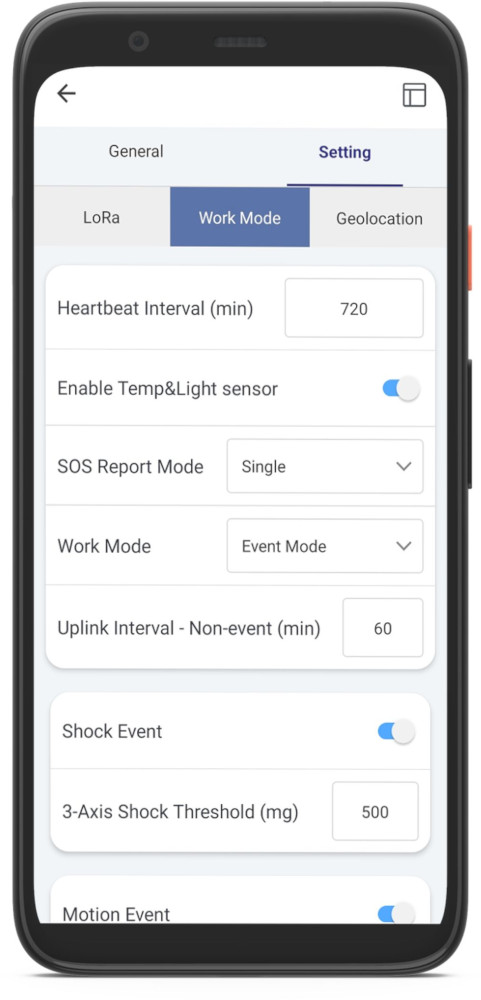 Step 3.
To proceed, access Settings >> Geolocation. Opt for the Geolocation Strategy GNSS Only (this is the only mode currently supported by Telemetry2U) and verify that the GNSS Data Cache is enabled. Enabling this cache ensures that records are stored in memory when the device is beyond the reach of the LoRaWAN network.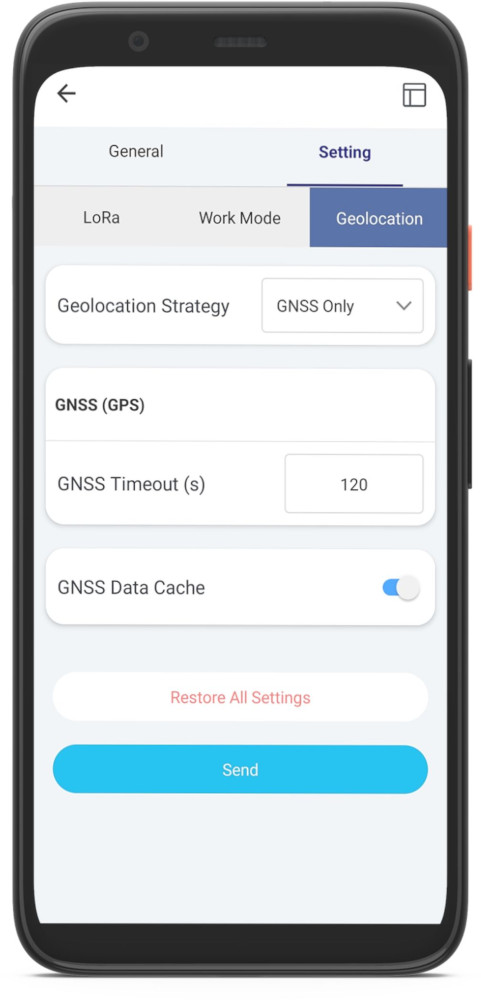 After you've finished, click the Send button to apply the configuration to the T1000. When you then select the Back to Home link, the T1000 will initiate a reboot, and you can safely close the SenseCAP Mate App.
Note:
If you're just getting started with Telemetry2U, you may want to check out our quick guide and see just how easy it is to get started.
Adding the SenseCAP T1000 to T2U
With your SenseCAP T1000A Bluetooth configuration complete, the next step is to integrate it into the T2U platform. After registering with T2U, log in to your account, and proceed to Admin >> Node Maintenance. Click on the Add New Device button to start the process. Fill out the straightforward form, ensuring you use the accurate settings for your preferred LoRaWAN network. The provided example image illustrates a SenseCAP T1000A operating within T2U's AU915 network.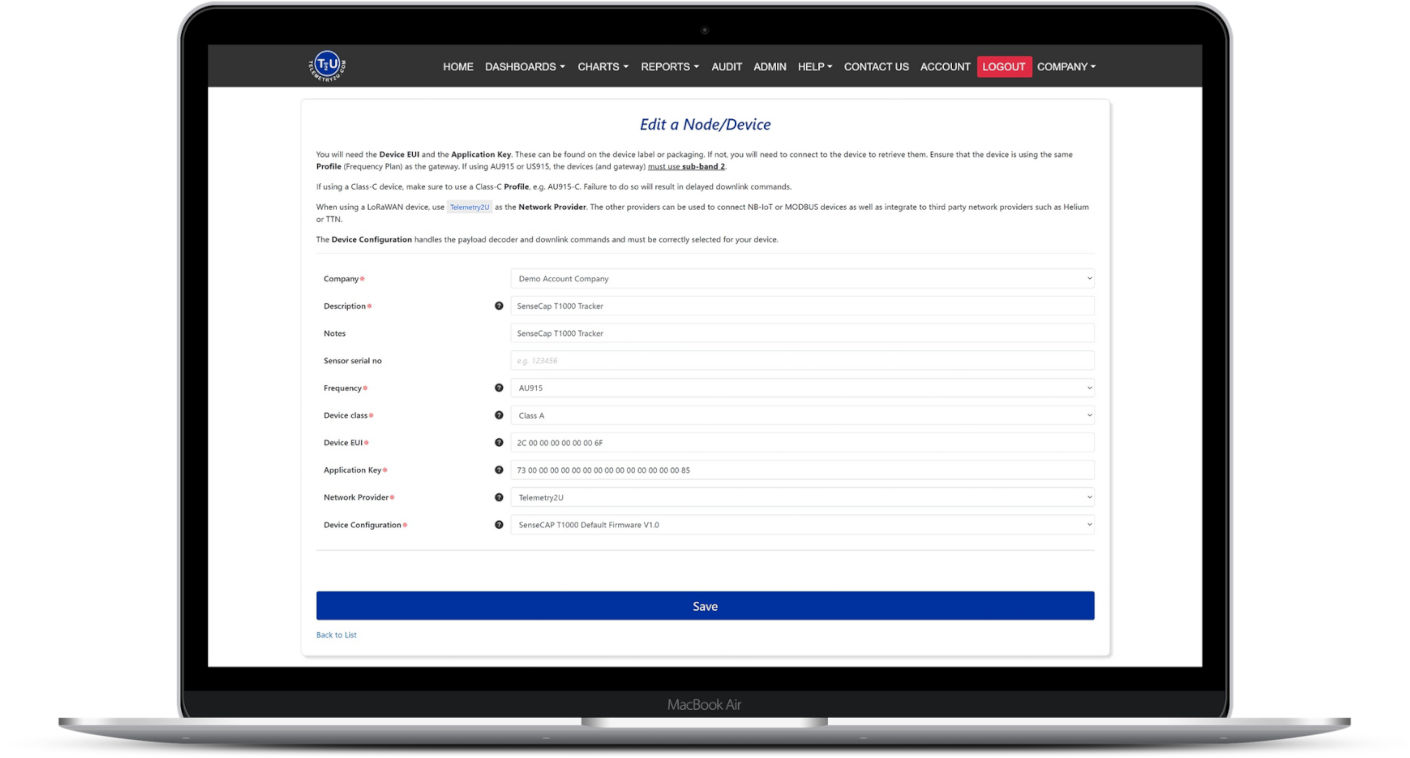 Description: Give the T1000 a unique name/description.
Frequency: Select the correct frequency plan for your LoRaWAN network.
Device Class: The SenseCAP T1000 works in Class A mode.
Device EUI: Enter the DEUI collected from the LoRA settings earlier.
Application Key: Enter the AppKey collected from the LoRA settings earlier.
Network Provider: Is using the T2U's network server, select telemetry2U from the list.
Device Configurations: This handles the payload decoder and downlink commands. Select SenseCAP T1000 Default Firmware 1.0 from the list.
The remaining fields are optional. To finalise the process, simply click the Save button located at the bottom of the page.
For more comprehensive instructions on adding a node to Telemetry2U, please refer section 6.4 in our documentation.
Ensure that your LoRaWAN gateway is operational and properly configured. The T1000 should establish a connection shortly. By pressing the button, you can trigger an immediate uplink from the T1000. If all the steps have been carried out successfully, you should be able to access the Reports page and observe your initial record.
In addition to utilising a private LoRaWAN network, as outlined in this guide, you also have the option to leverage public LoRaWAN networks like The Things Industries (TTI) or the Helium Network. These networks offer extensive global coverage, which is particularly advantageous for GPS tracking applications. Establishing an integration between a third-party network server and T2U is straightforward; we offer abundant documentation and functional examples to guide you through the process.
Creating a Real-Time Dashboards
Within T2U, you have the flexibility to visualise data in various ways, with options like real-time dashboards that can be tailored to your preferences using an array of widgets and color choices. Enable dashboard editing and proceed by adding widgets to the canvas. Position these widgets according to your layout preference, and adjust their size for clarity and responsiveness across all screen sizes. To configure a widget, simply double-click on it to access its color choices and settings — designed for simplicity. Once your dashboard is set up, you can easily duplicate or share it with other users linked to your account.
When you click on a sensor widget, it will direct you to the charts page, enabling you to swiftly analyse historical data across any chosen timeframe.
Clicking on the dashboard map widget will lead you to the Map page, unveiling the travel history. With the SenseCAP T1000's memory feature, you're assured that no records will ever be missing.
Check out a SenseCAP T1000A running in Real-Time on T2U.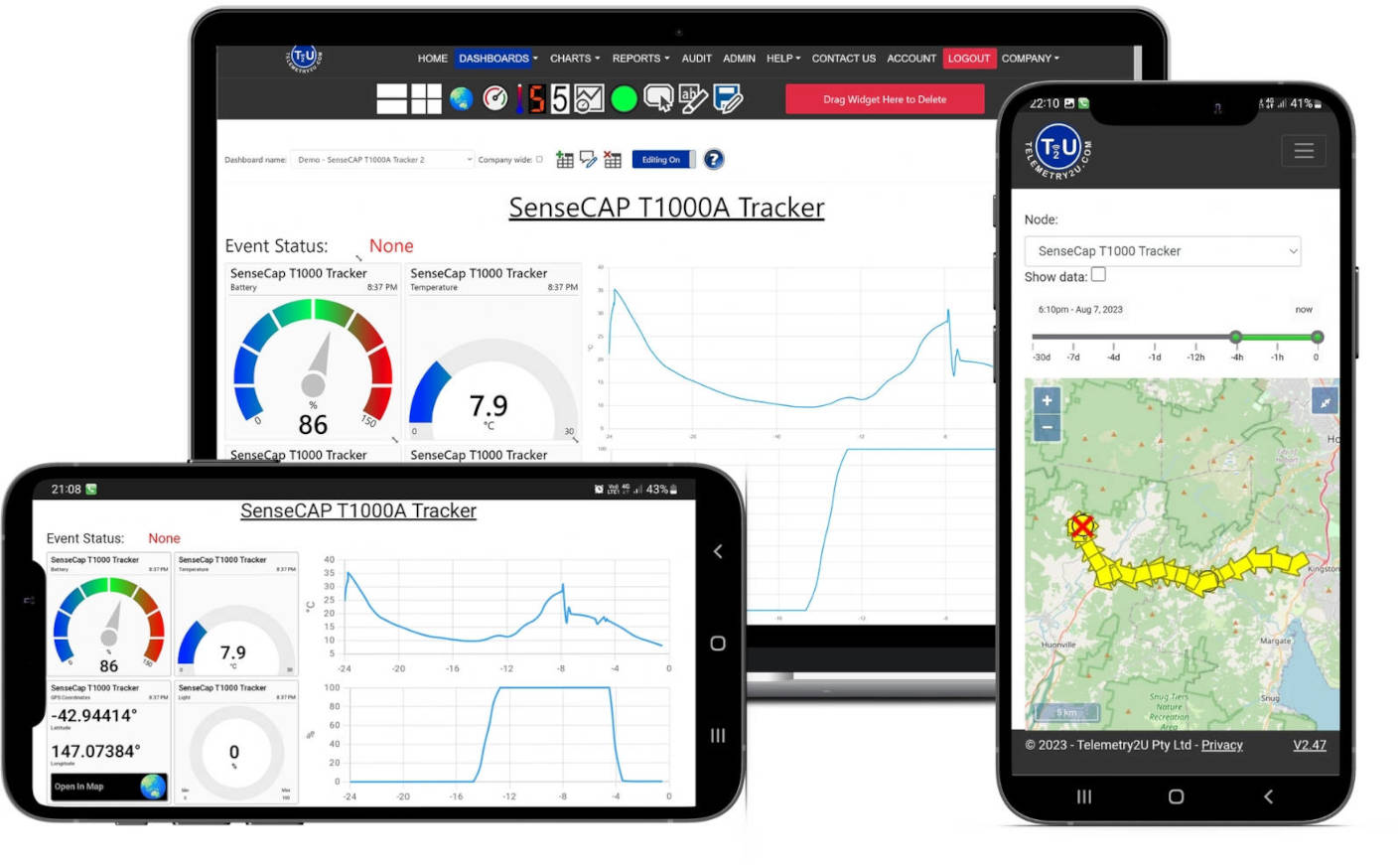 Configuring alerts on status events
Setting up alerts that initiate email, SMS, or voice notifications based on SenseCAP T1000 status events or sensor inputs is a straightforward process in T2U. After inviting users to your account and configuring notification groups, head to Admin >> Alerts and click on the Create New Alert Group button. At the top of the page, select the notification groups that should be activated by the alert group. Then, proceed to add alert conditions. The provided example showcases conditions for the temperature sensor, battery voltage, and various status events.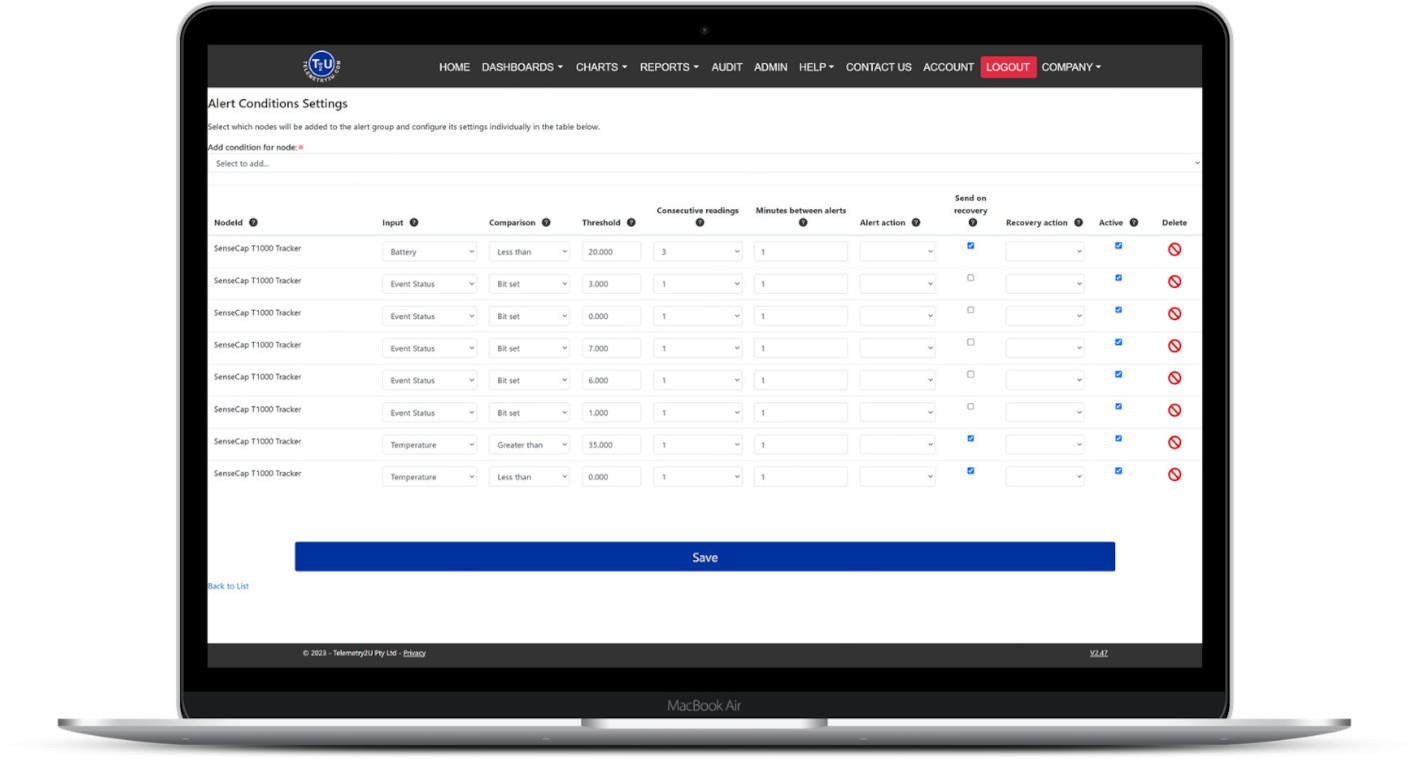 For temperature, light, and battery inputs, you can employ straightforward greater-than and less-than conditions. When configuring alerts for T1000 status events, you can utilise the Bit Set condition. Below are the values to be used for each event:
Bit Set 0 = Started moving event
Bit Set 1 = Stopped moving event
Bit Set 2 = Shock detected
Bit Set 3 = Motionless Event
Bit Set 4 = Temperature Event
Bit Set 5 = Light event
Bit Set 6 = SOS triggered event
Bit Set 7 = Button pressed event
Utilise the provided options to configure the remaining condition parameters, such as consecutive readings and alert recovery settings. Once you've adjusted these settings, click the Save button located at the bottom of the page.
For additional details on setting up alert groups, refer to section 6.3 in our documentation.
More options with Telemetry2U
Once you have a T2U account, your monitoring and remote control applications are far from limited. There is a huge array of sensors on the market for all sorts of applications.
Telemetry2U is the one-stop solution for all you monitoring and remote-control needs. We combine all the required hardware and software all in one place - IoT technology has never been easier.