Free IoT Platform Trial with Telemetry2U
This guide explains how to sign up for a 14-day free trial on Telemetry2U's IoT platform, add LoRaWAN devices, and integrate them through the Helium network or TTI, as well as add a LoRaWAN gateway and host a private network, with the option to subscribe to a tailored plan at the end of the trial.
Summary
Anyone can sign up to Telemetry2U and try the T2U IoT Platform free for 14-days. In that time, add your own LoRaWAN devices and integrate them with T2U through the Helium network or TTI. You can also add your own LoRaWAN gateway and host a private network. At the end of the free trial, you can easily sign up for a subscription tailored for your exact IoT requirements. This bulletin offers a step-by-step guide and can be done on any PC of Smartphone.
Prerequisites
A current and accessible Email address.
Creating a new account on Telemetry2U
Using any web browser, navigate to https://telemetry2u.com. From the top menu, click on the Register button. If the Register is not available, that means you are already logged in as a demo user and you must first Logout.
Enter a current and accessible Email address as well as a mobile phone number in international format (+61xxxxxxxxx) before choosing password.

Note:
Passwords must contain an uppercase character, lowercase character, a digit, a non-alphanumeric character and be at least six characters long.
Click the Register button at the bottom of the page when done.
You'll be taken to the registration confirmation page advising you to check your registration Email address.
You can close the above page advising you to check your email.
If you check your email inbox, you should have an email from Telemetry2U like the following
Welcome to Telemetry2U!
Please confirm your account by clicking here. Please note it will not be possible to login until your e-mail address has been confirmed.
This e-mail has been generated in response to a request to register a new account on the Telemetry2U platform. If you did not originate this request, you may simply ignore this message or contact sales@telemetry2u.com for further information.
We look forward to seeing you soon,
The Telemetry2U Team.
You must click on the link in the email to confirm and complete your account registration. Once you do, you'll be taken to a page confirming the process is complete.

Logging in and starting a free IoT Platform trial
You can now Login to the T2U IoT Platform. On your first login, you'll be taken straight to your Profiles in your Account settings.
All fields are optional, but the account name will the combination of your First Name and Last Name. If these fields are blank, the account name will become TBA TBA.
It's a good idea to select the correct Time Zone as this will be used on the time stamp for your data records. The Alert E-Mail address should be the same as the Username address used to sign in with, but you can change it to a different address if desired.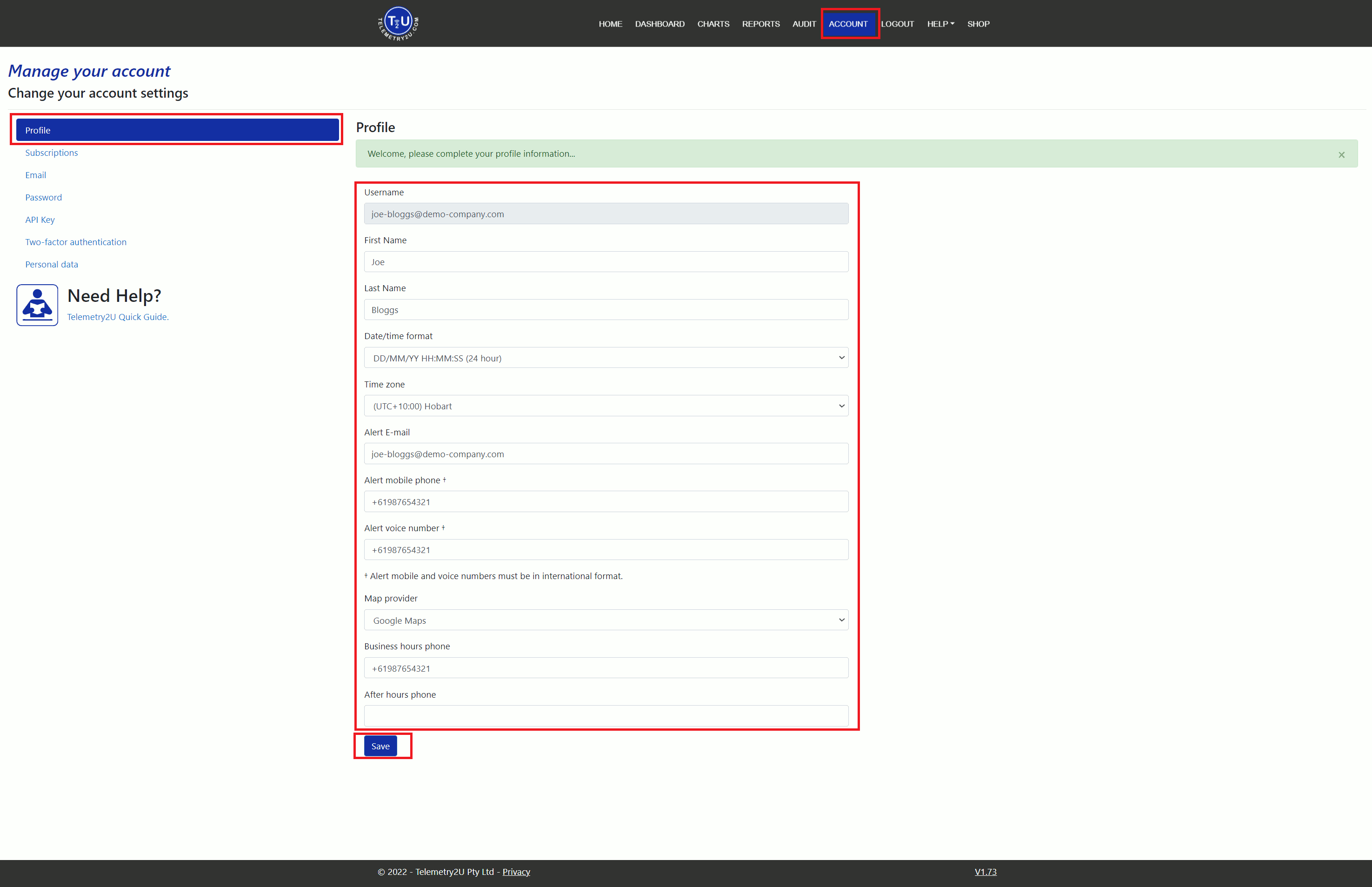 Once complete, hit the Save button at the bottom of the page. You'll be taken to a welcome page. Click on the link labeled Manage your subscriptions.

You should now be on the Subscriptions page. If you've gotten lost, navigate there manually via Account >> Subscriptions.
Click on the Start Free Trial button.

You should be taken to a page that confirms your free trial has started. You should also see a list that shows LoRaWAN gateway settings ( Frequency Plan, Server Address, Uplink Port, and Downlink Port) in case you want to add your own gateway and run a private LoRaWAN network.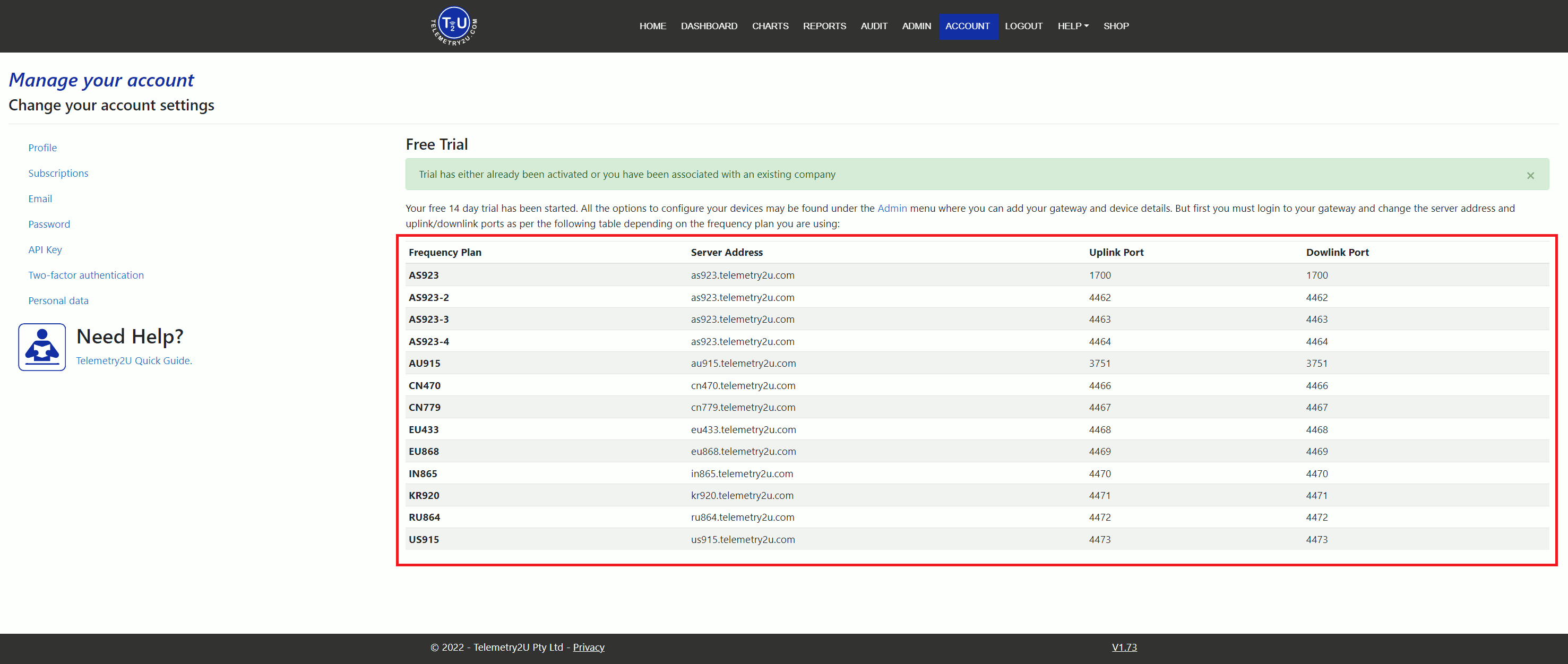 This completes the process. You can now integrate your sensors to the T2U IoT platform and start setting this up. It is recommended that you take a look at the Telemetry2U Quick Guide.
Upgrading Your Subscription and Features
The Telemetry2U free trial has a few limitations and at some point, you'll need to upgrade your subscription if you wish to continue to use Telemetry2U and unlock all our features.
To upgrade your T2U account, navigate to Account >> Subscriptions and click on the Purchase Subscription Button.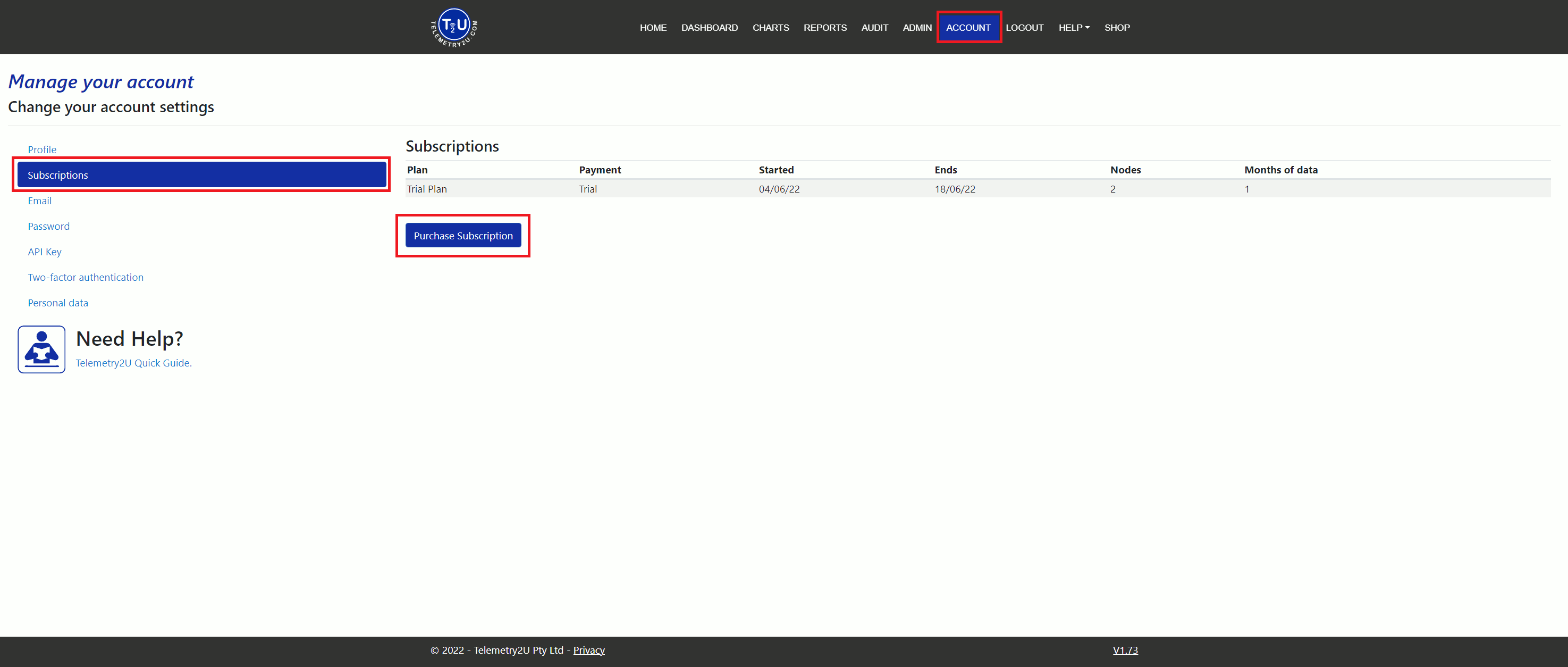 You'll be taken to a page where you can enter your requirements and Calculate the cost before paying with paying with PayPal or Debit or Credit Card.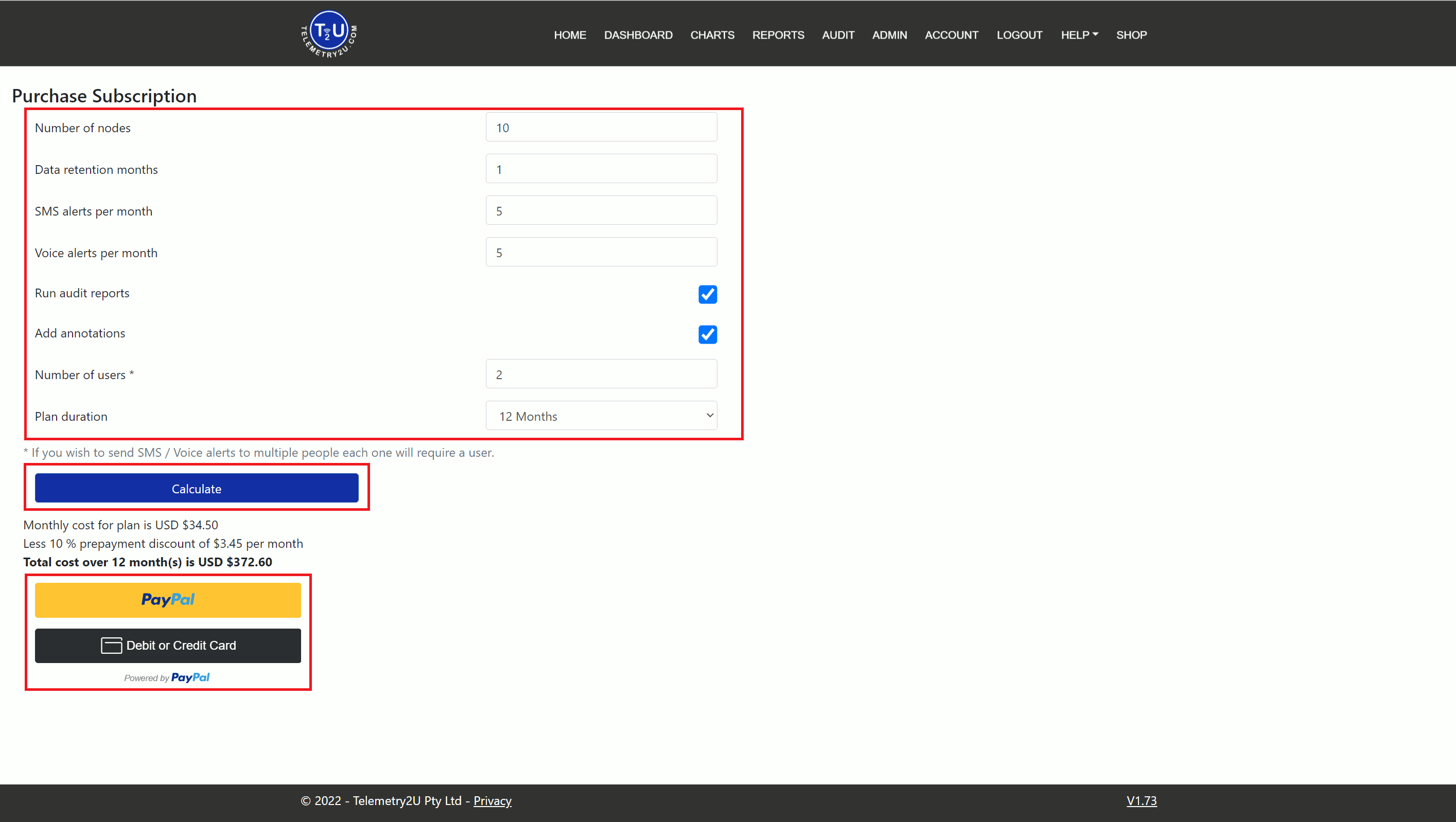 Your subscription can be modified or cancelled at any time. Thank you for using Telemetry2U for you IoT application(s). If you need any support, feel free to Contact Us anytime, we'll be happy to help.